Dr Coffee F3 Flagship Machine
We recommend this coffee machine for our valet coffee service customers.

Dr. Coffee's latest professional-grade coffee machine delivers café-quality beverages with the touch of a button.
Equipped with an imported European rotary pump, the F3 brews coffee instantly with precise control over every cup. Easily make iced coffees, hot chocolate, and more with the intuitive touchscreen interface.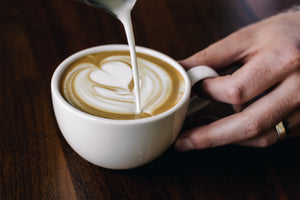 A Premium Office Coffee Experience
The F3's professional milk frothing system creates smooth, delicate foam for lattes and cappuccinos.
With a high capacity double bean hopper and powder hopper, you'll also have the flexibility to produce an array of specialty drinks exactly to your liking, including iced coffees and hot chocolates.
The F3 allows you to customise beverage parameters to craft your perfect personalised coffee. It can even be programmed to preheat at customised times, ensuring exceptional taste in every cuppa!
Designed for Busy Offices
Need to rush off to a meeting? No need to skip the coffee! The vane pump brews coffee efficiently at super high speeds, with output increased 1.5x over previous models.
Automatic cleaning functions also ensure that maintenance between cuppas is easy, so you won't be waiting on your coworker to get your fix.

Designed for high volume public venues, the F3 delivers speed, customisation, and convenience - everything you need to brew premium office coffee with professional barista quality and consistency.
SPEAK TO "THE DON"
Technical specifications
Daily output: 300 cups
Hourly hot water output: 27L
Bean Hopper: 2 x 1200g
Grounds container capacity: 100 Pcs (based on 10g/Shot)
Power Usage: 220-240V – 50/60Hz2600-3100W
Water Pressure: 80-600KPa (0.8-6Bar)
Dimensions: 340mm(W) x 540mm(D) x 830mm(H)
Weight: 48 Kg
OFFICE COFFEE MACHINES PERTH
Not the right coffee machine for your office? Check out Cuppa Cartel's full range of automatic bean-to-cup coffee machines. Whether you have 20 or 200 staff, we have a coffee machine to match your needs. Our office coffee machines are have been specifically selected for their ease of use, versatility, and ability to reliably make an excellent cuppa!
You May Also be Interested in
Wholesale Coffee Supply
Discover hassle-free wholesale coffee supply. Tailored to your needs, we deliver delicious freshly-roasted coffee beans directly to your office.
Corporate Coffee Services
We don't just supply coffee machines, we ensure they're always ready to go when your team need them. Explore our range of office coffee solutions.
Premium Valet service
Elevate your workplace coffee with our valet service: a spotless kitchen, fully stocked, and coffee machines primed to power your team!